"We do this to ensure that our products deliver quality. Using X-ray technology we can find out if there are any material defects or process and welding problems. But this is just one of the methods we use. We also use penetrant and eddy current testing."
This explanation comes from Kjell Bergström, an X-ray technician at OSTP, who has worked with non-destructive testing at Örnsköldsvik for more than 15 years. It's a job he appreciates.
"The challenge is in making your own assessments and reading the X-ray film correctly. My name is on the certificate, and I really want the assessment made as well as possible.  During our training we have to sign an impartiality agreement; in other words in this job you work for the customer, the company does not control the results. So, we work to ensure that the product is up to standard.
"OSTP is good that way. Results are never called into question, regardless of cost. If we say something needs to be remade, it is. This also applies if problems arise after we have done our work, during the quality review at department 500. Quality comes first."
Kjell joined OSTP (or ABE as it was named then) in 1989, and had other duties at the company before he started working with X-ray testing.  And after 32 years in the same workplace, one can wonder what has made him stay so long.
"There is a sincerity among colleagues, and it is a nice workplace, bright, open and very organised. We introduced 5S about 10–15 years ago and it made a big difference."
Kjell Bergström, Yohanes Abraham, Hossein Rajabi, Stefan Thorén and Lars Ölund all work on X-ray testing at Örnsköldsvik.
Kjell has four colleagues at X-ray testing. Yohanes Abraham is in training, Stefan Thorén is at level 1 (allowed to operate the X-ray equipment and take film himself) and Lars Ölund and Hossein Rajabi have undergone level 2 training and, like Kjell, they can assess the X-ray plates.
"We aim for everyone to be on level 2 so they can work independently, but training takes at least 1–2 years and takes place externally.
There is another level, level 3, allowing you to train staff, set up workplaces and check procedures. However, OSTP has chosen not to include level 3, hiring in that service instead.
Kjell has not only been in it for the long run at OSTP, he also likes to challenge himself in his spare time. He has run 13 Gothenburg half marathons, and skied five Vasaloppet races (90 km ) over the years, and he is already registered for the half marathon next year.
"You have to challenge yourself, and I mainly run with my brothers. Some years my nephews, nieces and other close family run with me too. It's a fun way to hang out, and gives you a training goal for the rest of the year. That is important for me."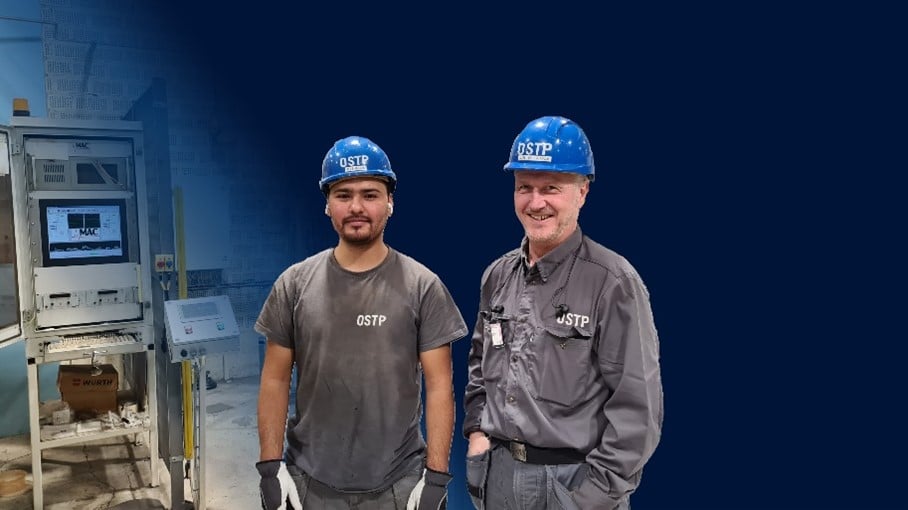 OSTP performs several types of quality tests.  Ali Shekari works with Kjell on quality control and is responsible for eddy current testing.